This class is a Spin-off class
Click here to find out more.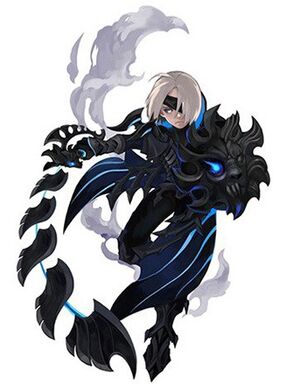 The Arch Heretic is a second specialisation class of the Heretic.
When Heretic can control Goddess's nightmare, he can use the power to awaken as Arch Heretic. When awakened, his speed on the ground increases substantially and his weapon is changed to "Heretic Sword" that can be extended to increase attack power or attack range.
Overview
Edit
Faith is a strange thing. It cannot be seen, felt nor held, except through one's heart. Its very strength lies in one's beliefs. Like the power of dreams, it can be a great driving force towards goodness… or evil.
For faith, when wavered, begins to taint the once pure soul. And when faith is completely broken, the nightmares will unleash in its stead. Behold the Arch Heretic!
Skill Tree
Edit
| | | | |
| --- | --- | --- | --- |
| Arch Heretic | | Quick Dash | |
| | | | |
| Saw Blade | | Power Accelerator (A) | Power Accelerator (B) |
| | | Attack Accelerator (A) | Attack Accelerator (A) |
| Class Mastery | | Enchant Buff (Brutal Soul) | Enchant Buff (Pain to Gain) |
| | | | |
| Class Mastery II | | Arch Heretic EX (A) | Arch Heretic EX (B) |
Skill List
Edit
Arch Heretic Transformation - Transform into Arch Heretic with the Nightmare Power. Increase Physical attack by a certain % of STR. Nightmare Skills are enhanced with additional range or damage. Nightmare Skills include: Execute, Evil Hand, Carnage, Savage Attack, Guilty Attack, Devastation, Cruel Rush
Saw Blade - Spins your sword rapidly while it descends slowly. Press normal attack while descending to launch it to the front immediately.
Class Mastery (Arch Heretic) - Gain 1 [Nightmare Power] every 2 sec. Reduce the CD of Land Corruption by 2 sec when Nightmare skills hit enemies. Each Nightmare skill can only reduce the CD once during each cycle.
Class Mastery II (Arch Heretic) - Increase the damage of Deadly Blow by 50% every second, up to max 1000%. When Deadly Blow hits enemies, the damage increase accumulation is reset. Increase 30% physical attack.
Quick Dash - Enhances Sliding Step after transforming to Arch Heretic. Dashes a longer distance.
Power Accelerator A - Final Damage is increased by 10%.
Power Accelerator B - Dark Elemental Damage is increased by 15%.
Attack Accelerator A - Damage of all Nightmare skills used after transforming into Arch Heretic increased by 5%.
Attack Accelerator B - Whenever you attack hit enemies accurately with Critical, 5% additional damage occurs.
Enchant Buff (Brutal Soul) - Enhances Brutal Soul. Gain additional 15% Critical rate when casting Brutal Soul.
Enchant Buff (Pain to Gain) - Enhances Pain to Gain. Increase the [Nightmare Power] gained from casting Pain to Gain to 50.
Arch Heretic EX A - Enhances Transform Arch Heretic. Increase 10% physical attack when transforming into Arch Heretic.
Arch Heretic EX B - Enhances Transform Arch Heretic. Increase 5% physical attack and reduce damage received by 10% when transforming into Arch Heretic.
Changelog
Edit
Playable

Classes

for Dragon Nest

Warrior

Swordmaster > Gladiator • Moonlord
Mercenary > Barbarian • Destroyer

Archer

Bowmaster > Sniper • Artillery
Acrobat > Tempest • Windwalker

Sorceress

Elemental Lord > Saleana • Elestra
Force User > Smasher • Majesty

Cleric

Paladin > Guardian • Crusader
Priest > Saint • Inquisitor

Academic

Engineer > Shooting Star • Gear Master
Alchemist > Adept • Physician

Kali

Screamer > Dark Summoner • Soul Eater
Dancer > Blade Dancer • Spirit Dancer

Assassin

Chaser > Ripper • Raven
Bringer > Light Fury • Abyss Walker

Lancea

Piercer > Flurry • Sting Breezer

Machina

Patrona > Defensio • Ruina
Spin-off Classes

Warrior

Avenger > Dark Avenger

Archer

Hunter > Silver Hunter

Cleric

Heretic > Arch Heretic

Sorceress

Mara > Black Mara
Ad blocker interference detected!
Wikia is a free-to-use site that makes money from advertising. We have a modified experience for viewers using ad blockers

Wikia is not accessible if you've made further modifications. Remove the custom ad blocker rule(s) and the page will load as expected.