Not yet implemented
This article contains content that has not yet been added to the game in the SEA server but has been released in other servers.
Remove this template if the content has been officially released.
This class is a Spin-off class
Click here to find out more.
The Black Mara is a speculated second specialisation class of Mara.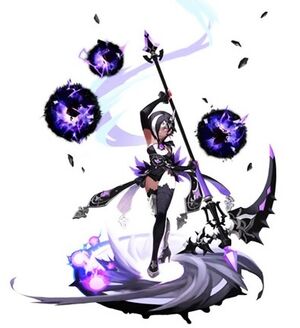 Overview
Edit
Preliminary Skill List
Edit
Dark Ray
Doom Bolt
Night Scepter
Shadow Shell
Septic Mist
Deadly Smoke
Wraith Form
Haze Rush
Entomb
Blessing Shade
Ebony Spark
Insult
Turbulence
Forgotten Wraith
Air Blink
Black Mara
Aftermath
Inhale
Enhance Ebony Spark (A)
Enhance Ebony Spark (B)
Enhance Wraith Form (A)
Enhance Wraith Form (B)
Enhance Black Strike (A)
Enhance Black Strike (B)
Enhance Septic Mist (A)
Enhance Septic Mist (B)
Reaping
Crippling
Black Strike
Void Coil
Smoke Storm
Doom Bolt Instant
Shard of Suffering
Dark Abyss
Mist Phantom
The skill names are sourced from DN Kr and DN Tw and may have overlaps.
In Other Localizations
Edit
ナイトメアマギカ
Naitomea Magika

Nightmare Magica, Japan
Playable

Classes

for Dragon Nest

Warrior

Swordmaster > Gladiator • Moonlord
Mercenary > Barbarian • Destroyer

Archer

Bowmaster > Sniper • Artillery
Acrobat > Tempest • Windwalker

Sorceress

Elemental Lord > Saleana • Elestra
Force User > Smasher • Majesty

Cleric

Paladin > Guardian • Crusader
Priest > Saint • Inquisitor

Academic

Engineer > Shooting Star • Gear Master
Alchemist > Adept • Physician

Kali

Screamer > Dark Summoner • Soul Eater
Dancer > Blade Dancer • Spirit Dancer

Assassin

Chaser > Ripper • Raven
Bringer > Light Fury • Abyss Walker

Lancea

Piercer > Flurry • Sting Breezer

Machina

Patrona > Defensio • Ruina
Spin-off Classes

Warrior

Avenger > Dark Avenger

Archer

Hunter > Silver Hunter

Cleric

Heretic > Arch Heretic

Sorceress

Mara > Black Mara
Ad blocker interference detected!
Wikia is a free-to-use site that makes money from advertising. We have a modified experience for viewers using ad blockers

Wikia is not accessible if you've made further modifications. Remove the custom ad blocker rule(s) and the page will load as expected.