This article is a Stub
You can help by adding information.
Berlin

Gender
Male
Race
Human
Dwarf
Age
57
Occupation
Blacksmith
Relatives
Borin (cousin)
Dorin (cousin)
Corin (cousin)
Molin (brother)
Unnamed wife
Current Location
Saint Haven
Voiced by
Raphael Barker (English SEA)
Additional Information
Star Sign
Leo
Blood Type
O
Height
162 cm
Weight
70kg
Likes
Pure minerals
Old rarities
Hound supplies
Dislikes
Chandler
Foreign guests
Animal Lovers Association
Affiliation
Golden Goose Guild
Blacksmith Berlin is the blacksmith assigned to Saint Haven. He is friendlier than his cousins and also really proud of his work, but is very sensitive to criticism.
In the future, he establishes his own companies, the Berlin Corporation and the Berlin Museum.
By a twist of luck, Berlin discovers large amounts of a certain black liquid from a piece of land he bought from Master Sorceress Stella. As it turns out, the black liquid was an effective fuel source, and earned a profit from his discovery. He soon used his newfound riches to push through technological research with the help of Heraldry Scholar Stas.
"Ah... My back hurts."
"Hello there."
"These days, my fingers hurt when it gets cold."
"You remind me of my youth."
"My cousins? Oh yes, we look alike."
"My cousin is a darn good blacksmith too, like me! Hahaha..."
"Very well young adventurer, hehe."
Trade Interface
Edit
"Mmm... Let me give you something useful for your journey."
"Take your time."
"My stuff is awesome, eh?"
Friendship
Edit
To
befriend
Berlin, players require the title
Minus' Hand
. He is one of the characters that provides
Bromide
when the Friendship bar reaches 90%.
When the Aversion bar was still active, gifting Dishonest Merchant Pero caused aversion points to Berlin.
Fondness Quotes
Edit
"You are always welcome here."
It's me.
"Are you doing well? I have gathered some great items and I have saved aside one for you. Do come back and visit me more often."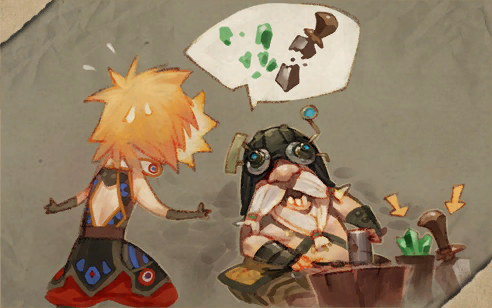 Because of the kind of pains he describes, Berlin may suffer from Arthritis.
He is a huge fan of the pop idol Harori.
During the quests Harori's Hero that involves rescuing Harori at Forsaken Islet Core, he demonstrated being able to battle, rushing to the area alone and rescuing Harori before the player can even reach the place.
Many of the Academic's gadgets are of Berlin's brand.
He is listed as Human in the Goodwill Album, however, during conversations he calls himself a Dwarf.
A lot of players have comically blamed Berlin in-game whenever their weapons/gear break during enhancing by him.
In other localizations
Edit
| | |
| --- | --- |
| Belin | North American name |
Ad blocker interference detected!
Wikia is a free-to-use site that makes money from advertising. We have a modified experience for viewers using ad blockers

Wikia is not accessible if you've made further modifications. Remove the custom ad blocker rule(s) and the page will load as expected.