Home
Talk

3
561pages on
this wiki
Content

Lore

Community

Desert Dragon Nest Updates

New nest: Guardian Nest
New dungeons:
Dragon Jade System
"Like!" System
New Saint Haven
New events

Spend And Get Rewarded! (18 Mar - 6 Apr)
Free Levels: Leveling Pays Off Now! (03 March - 14 April)
Special Leveling Rewards Just For You ! (18 Mar - 21 Apr)

Gacha Box Update:

Limited Edition: Guardian Dragon's Wings
Limited Edition: Guardian Dragon's Mark
Limited Edition: Guardian Dragon's Tail




Classes
Statistics
This wiki currently has 561 articles.
Featured Article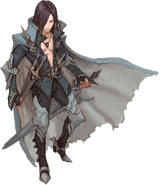 Velskud was a member of the Cassius Kingdom Knights, and later known for being one of the members of the Six Heroes who fought Black Dragon Karas. A talented swordsman and a close friend to Geraint, the founder of the Six Heroes, his skills in wielding a sword were respected by many.

He lives on in the romanticized stories of the Six Heroes as a hero who lost his life in saving his comrades. However, the true story tells of his betrayal, taking the lustre of the Black Dragon and partially blinding Geraint in the process. For some time, he joins the ranks of the Dragon Followers as an apostle, given the title of "Knight of Kaleon".