This article is a Stub
You can help by adding information.

Irine is the cheerful member of the Cassius Castle Guild who hands out events to adventurers from all across Lagendia. Due to her job requiring her to visit all towns, she sometimes find herself involved in the local's misadventures.
Her optimism draws many adventurers to her and she is quick to make friends with all of them, thanks to her warmth and friendliness. But she is angry with Trainer Lindsay for hating her and for trying to poison her.
"Nice to meet you, i'm the worlds events planner."
"Would you like to know about our current events?"
"Doing an event is a great way to rest and relax."
"I hope to preserve the cultures of Lagendia through these events."
Friendship
Edit
Irine will be up to be friends with all Players as soon as they arrive their respective town for the first time. In the past, gifting Irine gifts raise Fondness with Lily and Kevin, while gifting Adelynn raised Irine's. When Aversion was still active, gifting Irine caused Lindsay Aversion points to raise and vice-versa.
Irine provides two Bromides: One for getting Fondness to 90%, and the other for helping her take her of orphaned children during a series of side-quests.
Friendship quotes
Edit
"Hihi... How are you?"
"If you are feeling down, you can talk to Irine."
"Allow me to entertain you."'
Thank you always ~
"Hi, I'm Irine. Thank you for always being nice. I'm gifting you an item which I hope would be of help to you. All the best!"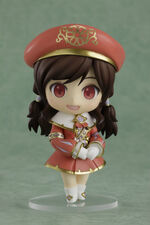 Irine loves outdoor activities, specially picnics. She has confessed going to known dangerous places like Forest Sanctuary to take strolls and set picnics.
Lindsay has a rivalry with Irine, due to her wanting to be an Event Planner too. She had confessed trying to poison Irine through the food she gives her.
During the quest My Name from Lindsay, Irine asks the Player for 10 Rough Agates. This is currently the only quest in the game that requires a non-quest type item to be completed.

If counting Beautiful Silver Hair, it would be the second, but on this quest there is an alternate way to finish it through quest-type items.

Irine has her own figure in Good Smile Company's Nendoroid line.
The official romanization of her name is Ilyn.
She was the first NPC to exist in more than one location at the same time. She is also the only character to stay in the most number of places simultaneously.
In other localizations
Edit
Ad blocker interference detected!
Wikia is a free-to-use site that makes money from advertising. We have a modified experience for viewers using ad blockers

Wikia is not accessible if you've made further modifications. Remove the custom ad blocker rule(s) and the page will load as expected.