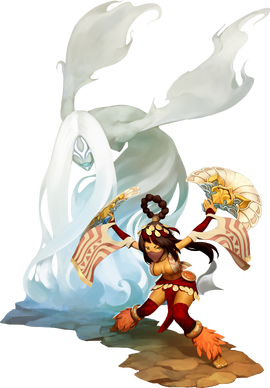 The
Soul Eater
is the secondary specialization class of the
Screamer
, the other being the
Dark Summoner
. The Soul Eater summons spirits to aid her in long ranged combo attacks. Her ability to strengthen her allies' attacks by placing curses and status ailment on her enemies makes her a valuable party support member!
Overview
Edit
The Soul Eater specializes in summoning paper familiars that aid her in debilitating the combat efficiency of her enemies. Aside from boosting key skills from the Screamer's Spirit Paper tree, she gains a new debuff, Spirit Curse, which expands the Soul Eater's damage capabilities.
Skill Tree
Edit
Playable

Classes

for Dragon Nest

Warrior

Swordmaster > Gladiator • Moonlord
Mercenary > Barbarian • Destroyer

Archer

Bowmaster > Sniper • Artillery
Acrobat > Tempest • Windwalker

Sorceress

Elemental Lord > Saleana • Elestra
Force User > Smasher • Majesty

Cleric

Paladin > Guardian • Crusader
Priest > Saint • Inquisitor

Academic

Engineer > Shooting Star • Gear Master
Alchemist > Adept • Physician

Kali

Screamer > Dark Summoner • Soul Eater
Dancer > Blade Dancer • Spirit Dancer

Assassin

Chaser > Ripper • Raven
Bringer > Light Fury • Abyss Walker

Lancea

Piercer > Flurry • Sting Breezer

Machina

Patrona > Defensio • Ruina
Spin-off Classes

Warrior

Avenger > Dark Avenger

Archer

Hunter > Silver Hunter

Cleric

Heretic > Arch Heretic

Sorceress

Mara > Black Mara
Ad blocker interference detected!
Wikia is a free-to-use site that makes money from advertising. We have a modified experience for viewers using ad blockers

Wikia is not accessible if you've made further modifications. Remove the custom ad blocker rule(s) and the page will load as expected.