Ad blocker interference detected!
Wikia is a free-to-use site that makes money from advertising. We have a modified experience for viewers using ad blockers

Wikia is not accessible if you've made further modifications. Remove the custom ad blocker rule(s) and the page will load as expected.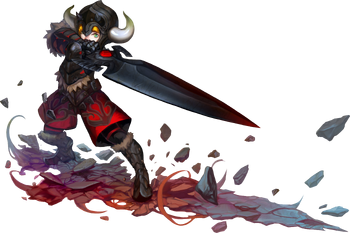 The
Swordmaster
is the primary specialization class of the
Warrior
, the other being the
Mercenary
. Sword Masters are equipped with mainly damaging attacks and can use them to block incoming attacks with ease and retaliate with destructive force.
Sword Skill tree - Quick close range physical attacks which allows quick combos.
Sword Energy tree - Strong magical attacks which are able to deal damage at a far distance.
Parrying tree - Able to block incoming attacks and counter-attacking after parrying.
Equipment
Edit
Sword Masters can only use the Sword as their main weapon and Gauntlet as their sub weapon.
Skill Tree
Edit
Specialization
Edit
At Level 44, Sword Masters can begin the 2nd job specialization quest.
Secondary Specialization Quest
Accept the 2nd job specialization quest from the remote quest tab in your quest list.
Report to Old Hound Jack in Riverwort Whart(Karacule Hut).
Return to Lotus Marsh and speak with Master Warrior Pedro.
Clear East Ancient Armory and defend against Velskud attacks at the end.
Clear West Ancient Armory.
Clear Riverwort Ruins.
Return to Riverwort Whart and speak with Geraint Sword.
Do a specialization trial where you will be able to try out that specialization skills.
Decide on which specialization you want to advance to and report back to Master Warrior Pedro.

Focuses on the Physical Tree. Gladiators overwhelm their enemies with brute strength, making them one of the best duelists in the game.

Focuses on the Magical Tree. Moonlords rely on their lunar power to bring devastation to those who would stand against him.
In other localizations
Edit
| | |
| --- | --- |
| Swordsman | North American version |
| Swordsman | European version |
Playable

Classes

for Dragon Nest

Warrior

Swordmaster > Gladiator • Moonlord
Mercenary > Barbarian • Destroyer

Archer

Bowmaster > Sniper • Artillery
Acrobat > Tempest • Windwalker

Sorceress

Elemental Lord > Saleana • Elestra
Force User > Smasher • Majesty

Cleric

Paladin > Guardian • Crusader
Priest > Saint • Inquisitor

Academic

Engineer > Shooting Star • Gear Master
Alchemist > Adept • Physician

Kali

Screamer > Dark Summoner • Soul Eater
Dancer > Blade Dancer • Spirit Dancer

Assassin

Chaser > Ripper • Raven
Bringer > Light Fury • Abyss Walker

Lancea

Piercer > Flurry • Sting Breezer

Machina

Patrona > Defensio • Ruina
Spin-off Classes

Warrior

Avenger > Dark Avenger

Archer

Hunter > Silver Hunter

Cleric

Heretic > Arch Heretic

Sorceress

Mara > Black Mara